Diversity Marks Graduating Classes And Gifting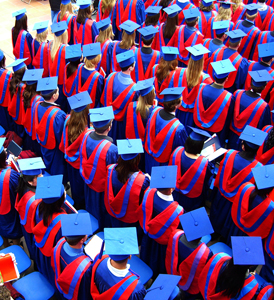 Over 1.5 million college seniors will be graduating this year. As corporate offices continue to focus on diversity, so do college classrooms. This class is one of the most diverse classes in US educational history.
Since 1980, the number of graduating females exceeded the number of graduating males. This year is no different with 898,000 females graduating and 608,000 males. According to the National Center for Education Statistics, between 1974 to 2004, undergraduate enrollment of minority students grew from 17 percent to 32 percent.
Employers plan to increase their hiring of new college graduates by 8 percent this year over last. With the job market beginning to show higher unemployment rates and lower job creation this is very good news for the class of 2009.
As we continue to congratulate our seniors, it is customary to present them with a celebratory gift. This year in a survey conducted by BIGresearch and the NRF (National Retail Federation), gift cards (35.6%) and cash (56.8%) remain the top gift to give seniors. Following gift cards in popularity apparel and electronics.
"Graduation is a time for celebration and there is no better way to wish a graduate luck in the next chapter of their life than by giving them a leg up financially," says NRF CEO Tracy Mullin. "Cash or gift card is the perfect gift for graduates who may be moving away from home, starting a new job, or heading to college in a few months."
Americans are expected to spend over $4.4 billion on graduation gifts this year spending on average $52.12 per present with the average person planning to buy two gifts. Graduates parents plan to spend the most on gifts. On top of supporting their students throughout college, consumers age 35-44 will spend the most this year spending approximately $106.79.