Labor Day Family Fun Safety Tips
Are you and your family off to the beach or pool this Labor Day weekend? Find that great water proof beach bag with lots of pockets or get a new one. You can even make your own as a family craft activity using plastic trash bag, duct tape and cord. Once you have the bag, you will need to research the beach, pool and surrounding areas.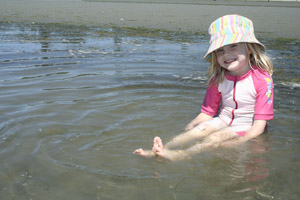 Once safety research is completed, you will need to go over safety tips with your child. The beach and the pool are can be excellent place to build those special moments with your family. It will take some preplanning. Most of all, you will want to make certain that your loved ones are safe.
Parent Packing List for Labor Day Weekend at the Beach
First: find a great beach bag. The beach bag needs to be strong and sturdy with a lot of pockets. You will need plenty of beach towels. You will need a beach towel or chair to sit on. You will also need a beach towel to dry yourself. You will also need a beach umbrella to sit under when it is sunny.
Second: make certain that you have water, sunscreen, sunglasses, hat, beach umbrella, first aid kit, beach shoes, shirt, book and beach toys. Third: if you are staying a long time, make certain that you take a cooler with sandwiches, salads, water bottles, drinks, and other snacks. Fourth: the ocean can be unpredictable so make certain that children wear life vests or a flotation device that will keep them safe in the water.
Third: a cell phone with a good signal would be a good safety device to have on hand. Before the family beach or pool trip Before you go to the beach or to the pool you need a bag to lug all of your supplies and a little time online doing your safety first research. Before you head out to the beach or pool, research the area and the facility.
Three Things to look for are:
1. Are there restrooms or changing rooms?
2. Are lifeguards on duty?
3. Is there a concession stand or restaurant in the area?
Resources Center Safety Tips for Parents
If you are going to the beach please research the beach before you go. Things to look for are:
1. Check Out Conditions What is the beach condition like? Sand condition, pollution, lifeguards on duty, wave condition, services provided (snorkel gear, boogie boards, etc.)
2. Check In With The Lifeguards PARENT WARNING - Are lifeguards on duty? If there is no lifeguard, then do not swim in that area.
3. Find out from the lifeguard what the rip tide conditions are like. Please make certain that each family member knows what to do if they are taken by a rip current! Ask the lifeguard where the safest part of the beach is to swim safely
Nr
Five Active Things to do on the beach: Exercise Can be Family Fun

Tired of swimming? If so there are lots of fun family activities to do…
1. Build a sand snowman 2. Fly a kite
3. Take a walk and find seashells
4. Watch a beautiful sunset
5. Play Frisbee or volleyball If you dig a deep hole, please remember to fill it in before you leave.
Have fun. Stay safe. Make memories with your children.
Teacher created child parent and teacher resource from the Resources Center and Kamaron Institute Press
© Worldwide rights reserved. Kamaron Institute. The Resources Center