Living
US History Independence Day
America's Birthday Independence Day July 4th
Happy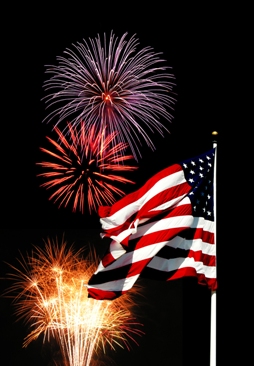 Birthday America. Thursday, July 4th, 2015 will mark America's 239th birthday.
She is still looking good for a woman of that age.
WHERE IT BEGAN: By the middle of the 1700's, the 13 colonies that made up part of England's empire in the New World were finding it difficufficult to be ruled by a king 3,000 miles across the Atlantic Ocean.

They were tired of the taxes imposed upon them. But independence was a gradual and painful process. The colonists could not forget that they were British citizens and that they owed allegiance to King George III.
A "tea party" and a "Massacre" were two events that hurried destiny.

Along with general unrest these events united the colonists.
Virginia
took the first step towards independence by voting to set up a committee to represent the colonies.
Art Activity Indepdence Day
Independence Day Art Activity For 4th of July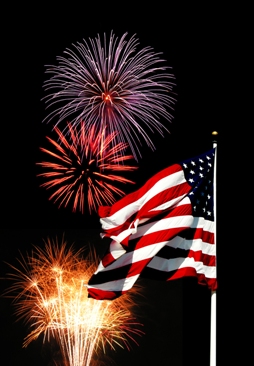 Parent Tips Independence Day July 4th For Kids and Family

You and your child can create red, white, and blue masterpiece as part of your family celebration preparation.
Personal Paper Fireworks Display
MATERIALS

NEEDED
1. White paper
2. Crayons of various colors, one must be black
3. Paper Clip or used up Pen
History: The Story of Song Entitled Taps
Story of Taps: A final bugle call

The 24-note melancholy bugle call known as "taps" is thought to be a revision of a French bugle signal, called "tattoo," that notified soldiers to cease an evening's drinking and return to their garrisons. It was sounded an hour before the final bugle call to end the day by extinguishing fires and lights. The last five measures of the tattoo resemble taps.

The word "taps" is an alteration of the obsolete word "taptoo," derived from the Dutch "taptoe." Taptoe was the command - "Tap toe!" - to shut ("toe to") the "tap" of a keg.
Summer Art Parades Flags
Summer Art Decorate your Bike Make A Flag
Most Americans will be attending a parade as part of their Independence Day celebration.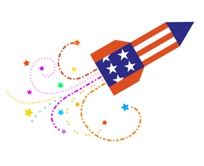 If your bicycle is going to the parade or you will be in the parade, we've provided supply lists and how to steps to turn bicycles, tricycles, and golf carts into a red, white and blue mobile display.
Flag making is an excellent way to celebrate a special occasion during the summer. The next activity lesson from the Resource Center is how to make your own flag. Great fun for the entire family.
Bicycle Decoration Materials
• Red crepe paper streamers
• White crepe paper streamers
• Blue crepe paper streamers
• Scissors
• Tape
• Bicycle, tricycle, golf cart or wagons make wonderful mini floats
How to See Floriday Keys on your own Terms
RV Vacation Destination Key Largo & FL Keys
Luxury RV travel may be the best kept secret in travel circles. No other method of seeing the world provides the security and convenience of traveling in a luxury RV. Beyond the independence offered, there are many other reasons to choose luxury RV travel over other methods: Avoid the hassles of airport security lines, missing reservations at hotels, and the "stopwatch" mentality of a group tour. Flying with small children or with pets can be a nightmare for all involved, but a luxury RV gives you room to move and more comfortable arrangements.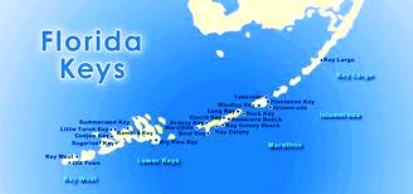 Heading to The Keys for your Florida vacation is an easy decision. The island lifestyle beckons, and during the late winter or early spring months, no other place in the USA can compare. To be sure, many other people have the same thoughts. This leads to crowded airports, overbooked flights, and difficulty in finding a suitable hotel. Instead of dealing with all of the negatives, focus on the positive. Allow your family to travel in the style and comfort you deserve.
Subcategories
LifeStyle

Living, Life, Life-stayle, Resources

Gift Guide

Baby Shower gift guide, christmas gift guide, mother day gift guide, fathers day gift guide, wedding shower gift guide

Family Resources