Nursing Career Opportunities On The Rise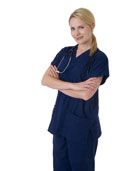 Technology and Baby Boomer aging might be the reason demand for nurses, truck drivers and pharmacists is expected to exceed demand. The Bureau of Labor Statistics (BLS) reports that certain jobs will experience a shortage of qualified workers. The job categories include: truck drivers and pharmacists as well as registered nurses, librarians, and machinists.
Help Wanted Pharmacists: As baby boomers age, more prescriptions are required. Prescription demand has also increased to pharmaceutical companies advertising directly to consumers. Programming is frequently interrupted by ads directing viewers to ask their doctor for their product – by name. The number of prescriptions has increased from 2 billion to 3.2 billion in the last 10 years. Plus, that demand is expected to grow due to the new Medicare prescription drug program. The BLS reports the median salary for pharmacists is over $87,000.
Help Wanted Truck Drivers: Online shopping increases the need for long-haul shipping. If current demographic trends continue, the supply of new long-haul heavy truck drivers will not meet demand. A report prepared for the American Trucking Association (ATA) by Global Insight warns by 2014, the deficit is expected to reach 111,000 drivers. According to the BLS, the median salary for heavy or tractor-trailer truck drivers is $33,870.
Help Wanted Nurses: The nursing shortage has been a regular news headline. According to the U.S. Department of Health and Human services, the shortage is expected to grow to nearly 30 percent by 2020. As boomer librarians reach retirement, the numbers entering the profession may not be able to keep up. Plus, the employment outlook will remain strong for qualified, skilled production employees (machinists) who operate equipment like lathes and drill presses.
If you interest is ownership, entrepreneurial interest and growth, especially in minority and woman owned business segments, is expected to remain strong through 2014.