How to See Floriday Keys on your own Terms
RV Vacation Destination Key Largo & FL Keys
Luxury RV travel may be the best kept secret in travel circles. No other method of seeing the world provides the security and convenience of traveling in a luxury RV. Beyond the independence offered, there are many other reasons to choose luxury RV travel over other methods: Avoid the hassles of airport security lines, missing reservations at hotels, and the "stopwatch" mentality of a group tour. Flying with small children or with pets can be a nightmare for all involved, but a luxury RV gives you room to move and more comfortable arrangements.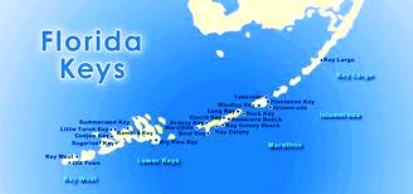 Heading to The Keys for your Florida vacation is an easy decision. The island lifestyle beckons, and during the late winter or early spring months, no other place in the USA can compare. To be sure, many other people have the same thoughts. This leads to crowded airports, overbooked flights, and difficulty in finding a suitable hotel. Instead of dealing with all of the negatives, focus on the positive. Allow your family to travel in the style and comfort you deserve.
Route
Reaching the Keys is simple. Once in Florida, use I-95 south along the east coast of Florida, which provides a fast flow of traffic while remaining close to the ocean. From Miami, FL-826 leads to FL-821 Toll way, and then to US-1. Highway 1 runs all the way from Homestead to the end of the United States at Key West.
If you're ready for lunch or dinner along the way from Miami into the Keys, consider a stopover at Sparky's in Marathon. For those needing an earlier stop, Hog Heaven and Lazy Days in Islamorada come highly recommended. Families traveling with their pets should consider the dog-friendly Islamorada Fish Company.
A visit to the Florida Keys offers many attractions. Here are a few must-see sights:
Ernest Hemingway Home and Museum, Key West - The famous writer's former home operates as a museum and a home for 45 of the now-famous six-toed cats.
Artificial Reef Diving – Wreck diving is available on the wreck of the Eagle, or on the artificial reefs created by the USCG Bibb, USCG Duane, USS Spiegel Grove, and the USNS Vandenberg.
Duval Street, Key West – Perhaps not the best destination for children, but Duval Street is a Key West institution for great street food, legendary bars, and live music. Hint: stick to the southern end to avoid some of the more touristy shops.
Theater of the Sea, Islamorada – Family-friendly fun abounds at this exhibition. Dolphin and sea lion shows are combined with ecological education for a well-rounded afternoon.
Kids will love Dolphins Plus at Key Largo. The adventure is educational and interactive, and puts children in contact with playful dolphins. Swimming with the dolphins is coordinated by professional staff who ensure that every visit is safe and memorable.
Golfers can find venues to lose a few balls in their spare time. The best recommendation for a public course is the 18-hole, 6,500 yard Key West Golf Club. There are additional courses further out in the Keys, but the majority are members-only.
A luxury RV vacation is undoubtedly the way to go, but you'll need a place to park the RV at night. For those who prefer to support an American tradition, consider using Kampgrounds of America (KOA) in Sugarloaf Key, about 1 hour 40 minutes from Key Largo, and less than 30 minutes from Key West. If you prefer to use a more upscale facility, Bluewater Key Luxury RV Park is directly on US1 in Key West and allows RVs at 24 feet or longer. Leashed dogs are welcome.
Finally, to help in trip planning, here are some useful links:
Key Largo Chamber of Commerce www.keylargochamber.org
Monroe County Tourist Development Council www.fla-keys.com
Florida Keys Vacation Planning www.visitthekeys.com
RV Trip Planning and Support www.goodsamclub.com