Americans To Spend Billions Saying "Atta Boy", Dad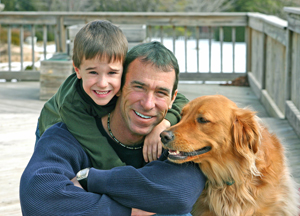 It's that time of the year to break out the barbeque, kick back with Dad in his favorite recliner and watch the ball game. That's right, its time to celebrate our favorite men in our lives...dads, step dads, grandfathers, and positive male role models.
On the humorous side, Bill Cosby once told a reporter that fatherhood is making your child feel the present you love most is soap-on-a-rope. The lesson there is making your child feel important. Coach J. Valvano remembered the power of the father role model when observed, "My father gave me the greastest gift anyone could give another person, he believed in me."
This year seems to be the year of quality time rather than big gifts. We've officially hit the summer months where big bucks are being spent on surging fuel prices.
A recent study concluded that with rising gas and food prices, people are looking to spend more time with Dad than spend a lot of money. Tracy Mullin says, "when it comes to dad, a simple greeting card and family dinner really goes a long way."
Americans are expected to spend $9.6 billion this Father's Day with each spending on average around $94.54, down last year's average of $98.34, and equal to about one gallon of gas. Most dads would be delighted if their offspring put that gallon of gas in the family mower and cut the grass without being asked.
Nearly half (41 percent) plan to take dad to a special outing. Clothing, books & CD's and certificates fill out the list. Seven out of ten will also be making a stop for that perfect card. Musical numbers and Father's Day cards that offer the giver the opportunity to combine your own voice message and music are new card entries sinec last year.
Who will be the big retailer winners? Department stores will see the largest number of visits among Father's Day shoppers. One third dutiful children will be choosing the department store to replenish dad's supply of his favorite cologne, soap-on-a-rope, or maybe even a new tie.
Other stores expecting to benefit for the shopping boost Discounters (31.0%), specialty stories (28.1%). Online shopping will make over 1.7 billion being spent this Father's Day with over $7.5 million being spent at specialty stores.