Find Great Holiday Deals; Free Shipping Tips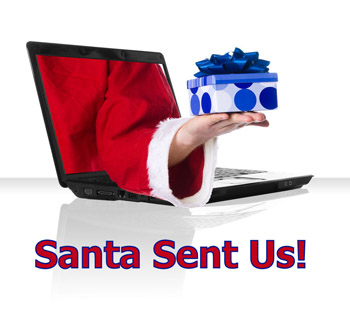 Ready to find the best deals for holiday gifts? Santa sent us with some really jolly news for you. Think Cyber...cybermonday.com. With the hustle and bustle of the upcoming holiday season, Shop.org has updated its CyberMonday.com website with new features that allow shoppers to find the best deals this year.
Partnering with major retailers like eToys.com, Overstock.com, Zappos.com and Barnesandnoble.com, CyberMonday.com will become your one stop shop for all your holiday gift needs.
Examples: Looking for the best price on that Hannah Montana guitar game? Forget shuffling through Sunday's ads and millions of websites, you can use CyberMonday.com's new robust shopping engine which will compare the websites of hundreds of retailers for the best price. It is the perfect resource to stretch your dollar this holiday season while making sure you have the right gift for everyone on your list.
Other enhancements to the website are "deal of the hour" promotions which showcases promotions from participating retailers every hour. They even have added a special section dedicated to the top five deals online. CyberMonday.com understands that customers are looking at more for less in the 2008 season.
Many shoppers are also saving time by shopping from home this year. To make sure you get the best deal possible, CyberMonday.com is also providing you information on retailers offering free shipping or gift cards with your online purchase.
This is not the first year for CyberMonday.com to help customers find holiday bargains. The site started in 2006 but has grown substaintially over the past few years. It served over 1.5 million consumers last year and is expected to see even more visitors this year.
All of CyberMonday's proceeds benefit the Ray M. Greenly Scholarship Fund created to honor the memory of former Shop.org Vice President Ray Greenly. The scholarship has been given over $400,000 to students pursuing careers in eCommerce. What a great way to spread the Christmas cheer this year.
(c) 2008. Resources Information from www.the-resources-center.com