Paper Planes: A Wellington Boy's Reflection on September 11th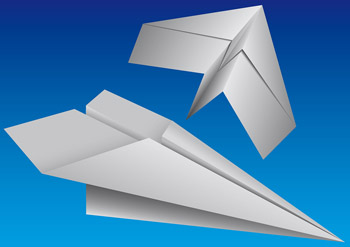 When the Twin Towers were hit on that fateful morning seven years ago, the sounds were heard all over the world. Wellington, New Zealand was no exception. Below was an email received by the US Embassy and Mission to Wellington, New Zealand a few days after the attacks on New York City and the Pentagon. The email was written by a Wellington "mum" sharing the story of her young son TK's response to the news. Who would have thought paper planes could mean so much?
She wrote:
My son TK (who will be 4 next week) watched as the American flag outside the American Embassy (in Wellington) was put to half mast yesterday morning. The embassy is across the road from TK's creche and after the flag was lowered, he asked why. His teachers explained to him that it was because a lot of people had been hurt, and then they (the teachers) suggested that the children take flowers over to the Embassy, as a mark of respect.
TK proudly carried his purple flowers forward and placed them beside the flag, then stood back and waited while his friends did the same. Then he waited: eyes on the flag. When his teachers told him that it was time to go, he turned back to the teacher and started crying. The teacher asked him what the matter was. TK had thought that by putting the flowers under the flag that would make the people better and the flag would therefore rise again.
He was sad that the flowers didn't help, so he also made 2 cardboard planes and asked me to send them to replace the ones 'the bad me' had broken.
This moved me to tears, and I was so proud I sent an email to United Airlines telling them about TK's cardboard planes and offering my condolences. This morning I received an email back from the Line Manager in Chicago thanking me:
"Touched does not begin to explain how I feel. Please thank your son and if would like, you can send the planes to me."
Below was his address, he'd forwarded the email to many other people within the company and I received another email saying:
"During these hard times (for us all), it helps to see the hope and goodness in our future generation. Your son must have a very kind heart."
It feels good that even from here in New Zealand the brightnes of TK's spirit has touched others. I am so very proud of him.
And so she should be.