Five Money Saving Tips : Couponing
Money-Saving Tips & Resources -- Coupon Clipping
Coupons and couponing are a fact of business life. Over the weekend, noticed that a national grocery chain had a new display sign that proclaims, "Couponers Welcome." A predictable part of the grocery store checkout process is the question, "Any coupons or school cards?"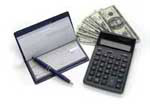 You've seen them everywhere but are afraid that if you clip one or two out of your Sunday newspaper or print some off your computer you'll be giving in to an obsession and eventually wind up on one of those cable TV shows about extremes. Here are some tips on how not to lose control, but as a professional, to use coupons to your advantage. You can calmly maintain control of your personal finances without being featured as a maniacal real-life TV personality.
1. Clip Coupons for Items You Already Use and are Interested in Trying
You should mentally divide coupons you clip or print into two main categories: those for products you already use and those for products you might like to try. Let's take the Procter & Gamble coupon insert for an illustration. Most people use at least one of their products. Say for a razor, you appreciate the quality the Gillette Fusion provides. In nearly every P&G insert there is one of those, so that is a few dollars savings you can bank on. Then there are the products you're familiar with but seldom use. Let's say for paper towels, you usually wind up with Scott, but usually within a few pages of the Gillette razor you'll find Bounty towels coupons. Clip those, and the next time you see them on sale in the store, try them. You'll be rewarded with a double discount for being adventurous.
2. Organize Coupons in Category Envelopes
What do you do with these little slips of paper between clipping and buying your product? Most department stores now have miniature folding files with a pocket for every category you can devise, but a simpler (and more economical) method is to grab six No. 10 envelopes. One way to "address" them would be "Non-Food," "Meats," "Snacks," "Cereals, Veggies & Butter," "Beverages," and "Restaurants." The fourth one is obviously a catch-all, and if you don't use cereal but do use yogurt, for example, you can make that change in the envelope's name. As you clip new coupons, add them to the back of the envelope so that the older coupons are near the front. Although the time you have to use each coupon varies (30 days is par for the course), you should wind up with the first-to-expire ones in the front.
3. Where to Find Coupons Online
Sites have proliferated over the last few years, some with user fees. However, as you might guess from the name, the simplest and perhaps original site is coupons.com. There, in May, 2013, you could find about 200 coupons, shown to you 10 at a time on a total of 20 pages. You can click on as many or as few as you'd like, and then click to print them when you're done. They print three to a page, so that, if you wind up selecting four coupons, you wind up cutting some slips of scrap note paper you can keep by your computer when you're done clipping those coupons.
Some sites will have their own section of coupons and offer you bonus points for printing and redeeming them. MyPoints.com, for example, awards 10 points to your account for each one redeemed. Combined with points you earn for buying from various merchants associated with their site and taking surveys, these totals at a sufficient level represent gift cards or Paypal deposits.
4. Find Out Which Grocery Stores in Your Town Offer Double Savings
Most shoppers have one favorite grocery store which they use and one or two others they will visit for certain specials or just for a change of pace. If you don't know already, find out which of your roster of stores will double coupons. Many will double the face value up to $1.00. Also inquire as to whether your store will honor internet coupons or only the glossy style that come in newspaper inserts. Often the smaller, hometown grocer doesn't have the advanced scanner to read the validity mark of an internet coupon, so they don't allow them. Larger, chain stores almost always allow them.
5. Watch for Drug Store Freebies
Before the last year or two, you could sort of "surprise" the drug store which is offering toothpaste or deodorant for free after you apply their instant rebate. More accurately, CVS, for example, will offer the product on sale for $1.99 and couple that with $1.99 in Xtra Bucks which are good for spending there on your next visit, so the net cost is zero. Free is still good, of course, but it used to be not uncommon for coupon clippers to occasionally earn a dollar when applying a manufacturer's coupon on top of this deal. These days, though, the corporate folks designing the weekly circulars seem to be in touch with the coupons that are out there, so they usually mention that deduction in their ad before allowing you to recoup the rest of the price in their instant rebate program. Every once in a while, though, the smart shopper can still "earn" some coin.
ResourcesCenterUSA.com provides resources, articles, tips, for Living, Business, Parenting.